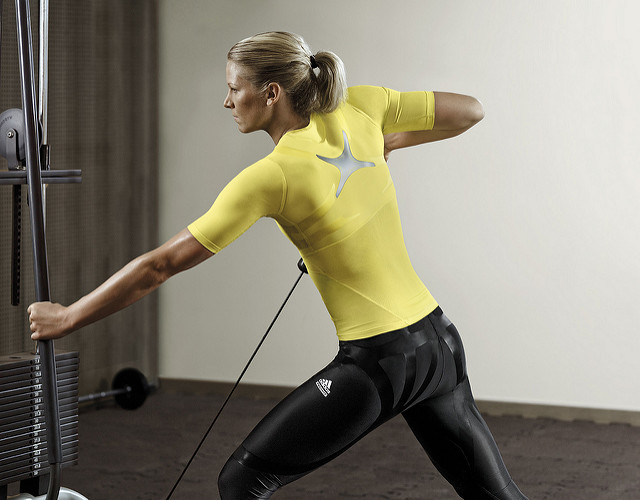 Can What You Wear to the Gym be Harming Your Health?
Speaking about what you wear to the gym, everyone is so concerned with the benefits of wearing the right apparel, that they completely forget about addressing the adverse situation. Namely, like proper gym wear can improve your athletic performance, there are some clothing items that are quite bad for your health. Unfortunately, this is not something that is universally well known, so first time gym-goers tend to overlook this crucial detail.
Wrong shoes
First of all, even if you are just standing, the entire pressure of your bodyweight is supported by your feet. Add to this any weightlifting exercise and this pressure multiplies. It is for this reason alone that in order to avoid hurting yourself you need to have quality shoes. There are several criteria to buying quality athletic shoes. The soles must be adequate, and the size as well (breaking them in is nothing but a myth) but perhaps the most important rule is that they must be slip proof. Some exercises (especially when you start lifting serious weights) can be quite troublesome. Slipping while lifting something like, can result in a series of injuries, some of which may even be devastating for your body. This is why your shoes must always be of quality design.
Full cotton shirt
Even though for your night out a 100% cotton shirt is a great idea, this is not something you want to wear in a gym. The reason for this is quite simple, cotton easily absorbs sweat and doesn't release it that quickly. It doesn't take a rocket scientist to realize how in the gym, this can be a bad thing. Namely, wearing a full cotton shirt in the gym will give you chills and most certainly even cause a severe irritation. As you can see, these are not the ideal workout conditions that you may have had in mind.
Baggy sweatpants
Sure, while you are at home, it is highly unlikely that you will find anything as comfortable as your baggy sweatpants. However, in the gym, they pose a serious safety hazard. Seeing how they are quite loose on your legs, there are so many things they may be caught in. To you this may seem as nothing but a minor inconvenience, but you would be surprised how often this can result in an injury. Furthermore, you will not be the only one at risk, but other gym members as well. For this reason, you would be wise to go with either slim-fitting long pants or shorts.
Go branded
What you wear to the gym may be of crucial significance for not just your athletic performance but for your health as well. With this in mind, you would be wise to always go with items made by trusted brands. Sure, you pay a bit more, but you always know that your apparel is completely optimized for your gym endeavors. With this in mind, you simply cannot go wrong with Ryder. If you were buying quality tools you would probably go with Hilti. If you were buying a PC processor you would go with Intel. Whenever you want to go for quality, you turn to a renowned brand, so why should different rules apply to buying your gym-wear.
Working on your body is not an easy thing and it requires your full and undivided attention 24/7. In other words, it is a lifestyle and what you eat and when you get up in the morning is as important as the exercises you do. As you can see, even what you wear to the gym can often be a determining factor and as such should never be disregarded.

About Holistics Voice
We are a community of people committed to things like yoga and meditation, healthy diets, organic skin and hair care, maintaining wellness, herbal remedies, sexual wellness, life coaching, life time physical fitness, organic supplements, holistic health healing remedies, alternative medical practitioners and venues and organizations who support them.