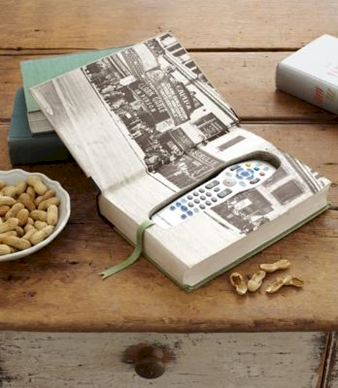 8 Ways to Turn Trash into Treasure
You know the old saying, one man's trash is another man's treasure. Well, with the uprising of D.I.Y. and upcycling trends thanks to social media powerhouses like Pinterest and Instagram, this adage has never been more true! Crafters and handymen across the globe are creating and sharing their trash-turned-to-treasure creations with one another, inspiring an entire wave of wonderful objects that originated from someone else's garbage can.
Do we have your attention yet? Ready to try turning trash into treasure yourself? Lucky for you, we've rounded up 8 awesome upcycling projects that virtually anyone can try.
1. Camouflaged remote holder
Why should your television be fighting with your book collection all the time? Unite the two with this unique and stylish remote control holder! All you need is an old book with the same length, width, and depth measurements as your remote control. Simple trace your remote control onto one one of the first pages, then use a box cutter or exacto knife to cut along your lines. For the sake of safety and efficiency, you might be better off cutting in layers.
Here's a visual of this project in it's final state, courtesy of Country Living.
2. Button Rings
Next time you're tossing out a worn and ragged cardigan or stained-beyond-the-point-of-saving dress shirt, remove the buttons and upcycle them into stylish, one of a kind button rings! Or, if you simply can't wait, head to your local thrift shop. Most second hand stores sell antique buttons in mass quantities for almost nothing! Once you've got the buttons, all you need are some adjustable brass ring blanks (these can be purchased at most craft or jewelry stores), and a bit of metal bonding glue.
Just add a thin layer of the metal bonding glue to the bottom of your button of choice, press it onto the ring blank for 1 minute, and let it set for 24 hours.
For a bit of extra depth and detail, try stacking two or more different sized buttons on top of one another and repeating the same steps!
Check out this great example  from Country living.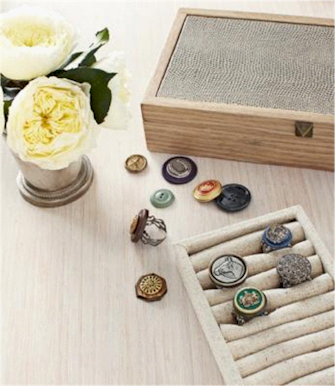 3. Colourful Rustic Vases
Next time you have an empty wine bottle or pasta sauce jar laying around the house, skip the Trash bin and turn it into a beautiful, and completely original vaise.
One of our favouritetechniques, involves nothing more than a bit of soap and water, some colourful acrylic paint, and an (optional) syringe. Simply soak off any labels or stickers with hot water and soap, load up your syringe with paint of your choice, and inject it through the top of the bottle. Rotate it around until the entire interior is coated, and let dry.
Here's a lovely example of this perfectly executed upcycling project.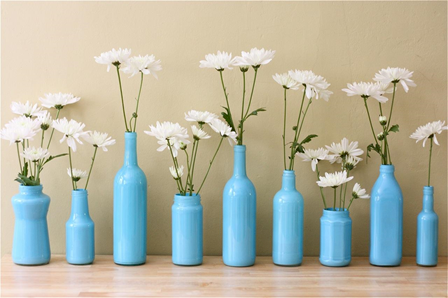 4. Creative Lighting
Beautiful lamps and lighting fixtures are impossible to find, and after you uncover that perfect statement piece, there's a good chance you'll be completely terrified by the price tag. Luckily, with a little bit of creativity and a bit of handy wiring, you can turn virtually anything into a one-of-a-kind lamp!
one of our favourites, made out of antique brass candlesticks and vases, as seen on HGTV's Flea Market Flip.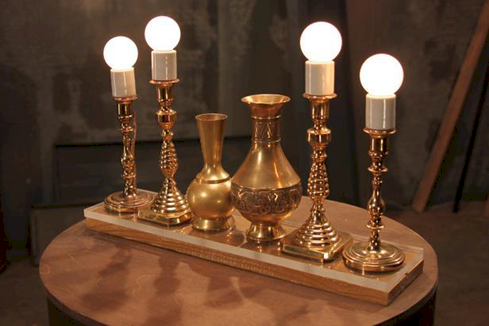 5. Custom Sweater Stockings
Christmas might be over, but that doesn't mean you can't start preparing for next year! These custom sweater stockings are a great way to occupy yourself until spring comes around. Best of all, this project is a great way to capitalize on all the big winter wear sales that will be popping up as we near the end of the season.
For the most part, all you need to do is find a sweater you like, trace a standard stocking over it, cut it out on both sides, and sew it together. Don't believe that it's this simple? Check out this full tutorial from A Pretty Life in the Suburbs.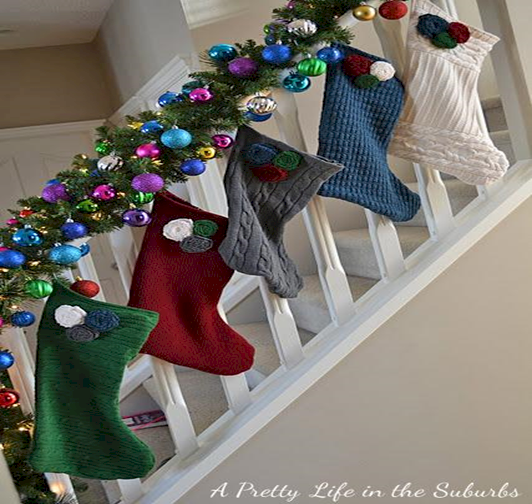 6. Barnyard (or zoo) Candleholders
Kids have finally outgrown those barnyard animal toys from the dollar store? Rather than tossing them in the trash, turn them into quirky, cute, and very stylish (if we do say ourselves) kitchen centrepieces!
It's easy, as long as you follow these easy steps. Simply drill a small pilot hole in flattest spot on animal back, and align pilot hole beneath hole in bottom of candle cup. Use a no. 5 screw to secure the candle cup, and apply 4 coats of plastic-friendly spray paint. Allow about 30 minutes for each coat to dry.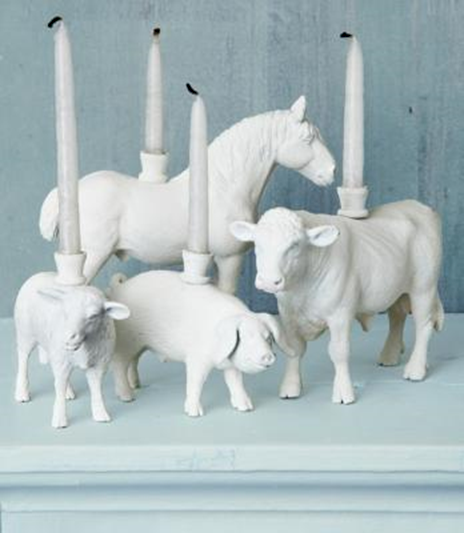 And the best part of all these projects? They're just the tip of the iceberg when it comes to upcycling. The possibilities are endless! …Well, as endless as your trash can is!
About Author:
Jean R Velasquez was born in 1979. She works at Murray state university and graduated from there herself. She loves her family more than anything and her favorite hobby is home decoration. She searches the web for all the latest trends in home improvement and tries it in her home.

About Holistics Voice
We are a community of people committed to things like yoga and meditation, healthy diets, organic skin and hair care, maintaining wellness, herbal remedies, sexual wellness, life coaching, life time physical fitness, organic supplements, holistic health healing remedies, alternative medical practitioners and venues and organizations who support them.